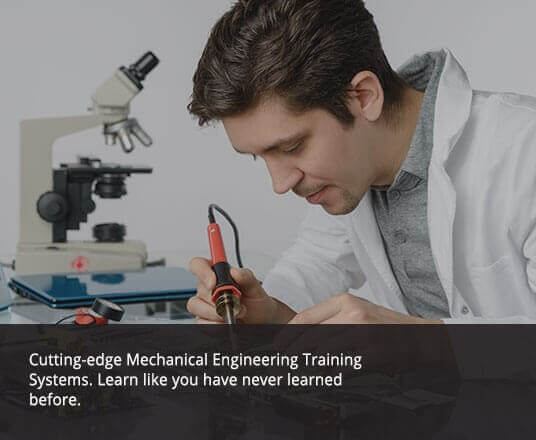 Mechanical Training Systems
Mechanical Engineering is one such diaspora of endless creativity and we successfully address this opportunity of honing unthinkable imagination.
Explore this with our educational range designed to provide simplicity and coherency in application. Our partners have created a diverse product line of from the basic Design to Digital Manufacturing and Rapid Prototyping, Reverse Engineering.
We provide premium quality of advanced lab technologies and solutions to foster development of the intellect. Our mechanical engineering lab solutions portfolio consists of –
Fluid Mechanics

Fluid Machinery

Robotics

Mechatronics

Heat Transfer and Exchange

Internal Combustion Engine

Thermodynamics

Refrigeration and Air Conditioning

CNC, Flexible Manufacturing and Computer Integrated Manufactory

Smart Innovative Factory and Automation

Workshop Machinery

Automobile

Hydraulic and Pneumatic

Material Testing

Control and Vibrations

Sectioned Models

3D Printer
Non-Destructive Testing